Schedule A Complimentary Consultation Today. New Patients Receive 15% OFF First Service!
We help you LOVE the way you look!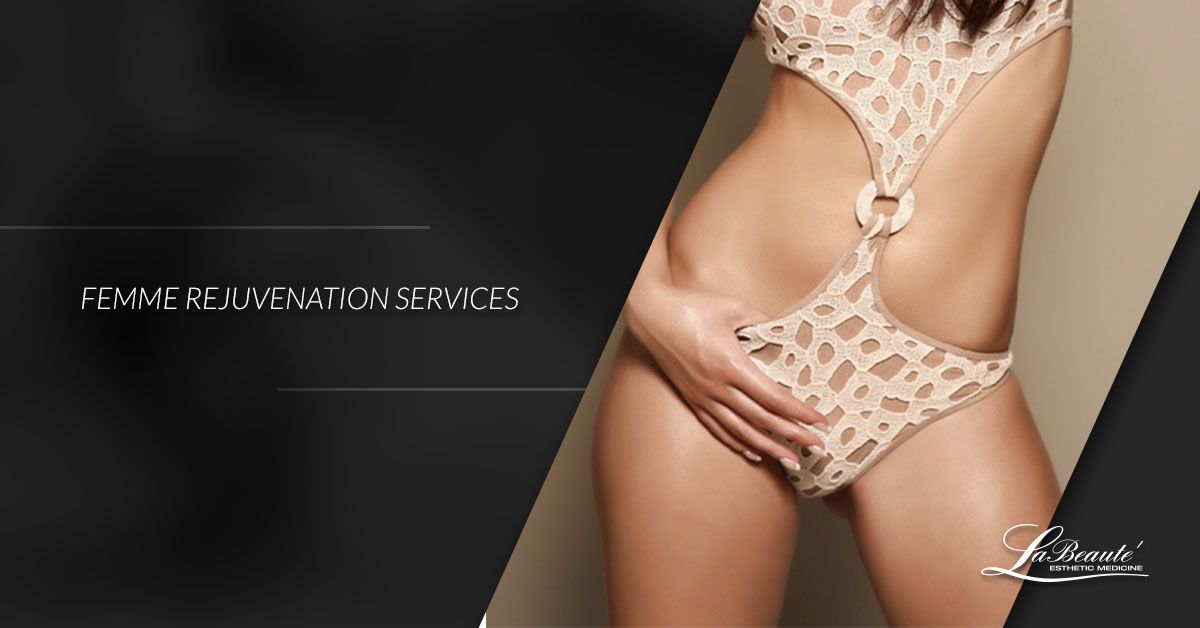 Femme Rejuvenation Services
Being a woman can be difficult. You have rapidly changing hormones and body issues that can come out of nowhere. Additionally, you may have some lingering issues after giving birth, especially when your body doesn't bounce back to how it looked previously. If you've recently had a baby, you may want to put a little love back into your body, so you can feel better about the way you look. For more information, take the time to contact La Beauté Medical Aesthetics and we'll walk you through our Femme Rejuvenation services.
ABOUT OUR POST-PREGNANCY SERVICES
Our Femme Rejuvenation and post-pregnancy services consist of procedures that are specifically geared toward females. These procedures are meant to help tighten, smooth, and strengthen your body to what it used to be. While getting older can be the culprit of skin that's sagging and loose, it can also occur after you have a baby. At La Beauté Medical Aesthetics, we offer female-based services that will help restore and rejuvenate your body to help give you more confidence and a better attitude toward your body.
VAGINAL REJUVENATION
Vaginal rejuvenation is a procedure that will help your self-esteem. By firming the walls of your vagina, restoring the youthful appearance, and repairing flaws after a birth, vaginal rejuvenation will help you feel more confident in your nether regions. Not only can it help to restore bladder incontinence, it can help with trauma and scarring as well as eliminate painful intercourse and provide better sexual pleasure. Vaginal rejuvenation can help immensely after having a baby because it can aid how you felt and viewed your pre-baby body. Keep in mind, that vaginal rejuvenation doesn't have to occur after childbirth, sometimes, due to age and hormonal changes, your body will make some major changes to your genital area.
When it comes to vaginal rejuvenation, it doesn't just help you feel better about your body, it also has many medical benefits. For example, it can help with urinary incontinence and alleviate vaginal dryness. Vaginal rejuvenation restores the look and tone of the vagina and the labia so that it looks more like how you used to, but it also achieves so much more. In fact, it can improve the look of your genitals and enhance sensation during sexual intercourse between you and your partner. It can also create more comfort wearing certain clothes. Additionally, if you experience discomfort or even pain during sex, then vaginal rejuvenation can be beneficial. While there are limitations to non-invasive vaginal rejuvenation, these medical benefits will improve the way you feel about your genitals as well as the way they look.
STOMACH SKIN TIGHTENING
Over time, your skin will lose the two proteins that help to keep it firm and smooth. Those two proteins are called collagen and elastin and without them, your skin will begin to lose elasticity and firmness. Your skin will become saggy and loose, two factors that can attribute to feeling self-conscious about your body. Additionally, if you've recently had a baby, then your stomach may have lost these proteins and can't bounce back to what it used to be pre-baby. That stretched out skin from housing your baby isn't fat, but a loss of elasticity. Our non-surgical stomach skin tightening will smooth and contract the entire abdomen and even lift it a bit so your post-pregnancy body looks like how it used to. You'll see changes in your abdomen to get your pre-baby body back to what it used to be.
FAT REDUCTION
After childbirth, your stomach doesn't generally bounce back. The abdominal tightness that you may have worked years for is gone. You may notice some extra weight that doesn't seem to want to go away around your middle, thighs, and behind. Your stomach may have a bulge that can't be worked off. Your thighs may feel twice their normal size. Many women have to work very hard to try to get rid of the fat after a baby, which is why we have a non-surgical procedure that will help reduce the fat on your body and get you back to where you were before.
If you'd like to learn more about our post-pregnancy service, then contact us today. We can go over vaginal rejuvenation, fat reduction, and more.