Schedule A Complimentary Consultation Today. New Patients Receive 15% OFF First Service!
We help you LOVE the way you look!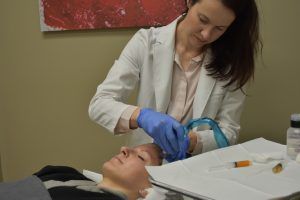 Dr. Bachurina giving a Vampire Facial® Treatment to a patient.
WHAT IS A VAMPIRE FACIAL®?
The vampire facial (also known as microneedling with plasma, a Blood Plasma facial, or Plasma facial) involves taking a sample of your own blood, extracting the plasma (the liquid part of your blood), and then putting it back into your skin with microneedling. Pen-like devices equipped with super-tiny needles, much smaller than those required for Botox or dermal fillers, are used to create microscopic acupuncture-like channels into the skin for the plasma to enter through. You will also have the option of having plasma injections done during your treatment which will help stimulate collagen growth.
SO WHAT ARE THE BENEFITS?
Plasma contains growth factors which are important for new cell generation and functions, such as creating new collagen and strengthening elastins, and are extremely beneficial to the skin. Microneedling allows for deep penetration of the growth factors and improves the results of the treatment significantly. This procedure is appropriate for those patients looking to:
improve fine lines/wrinkles
improve skin texture/under eye bags
reduce pore size
soften acne scars
At La Beauté, we use Vampire Facials® to treat acne, acne scarring, melasma, surgical scars, and fine wrinkles and lines. (Plasma can also be used on your scalp to treat hair loss because it can stimulate hair growth.)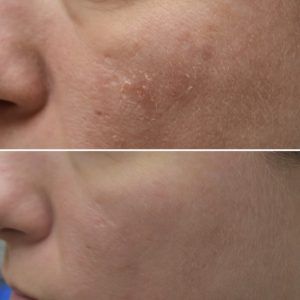 After one Vampire Facial® Treatment