Schedule A Complimentary Consultation Today. New Patients Receive 15% OFF First Service!
We help you LOVE the way you look!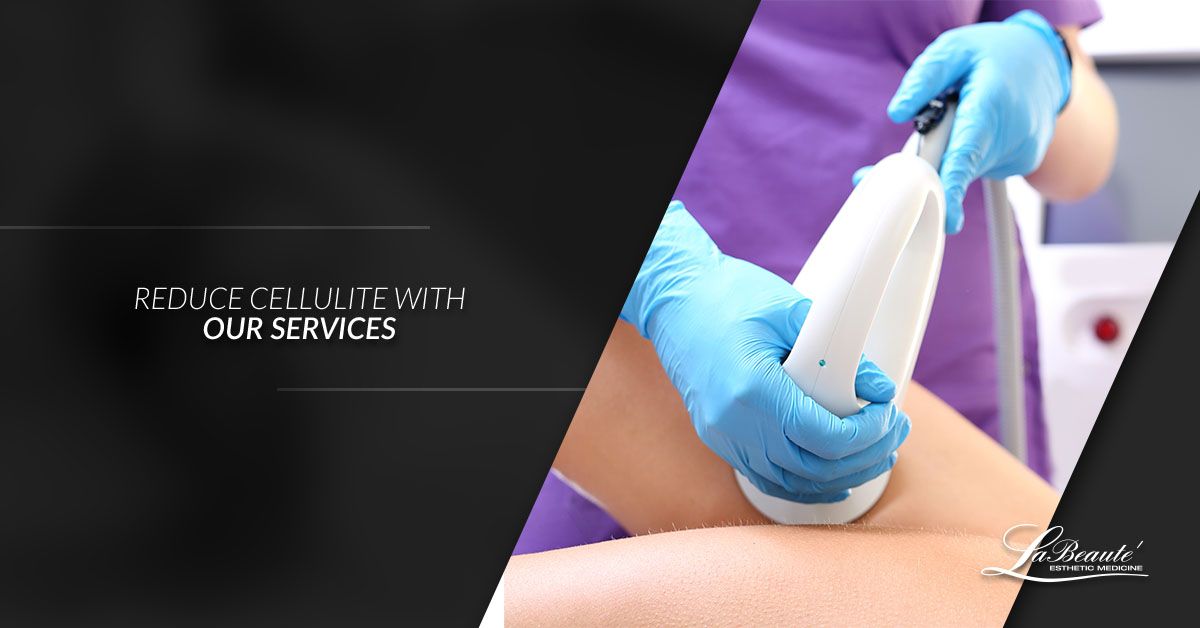 Reduce Cellulite With Our Services
Cellulite happens to everyone, even celebrities. Whether you're more voluptuous or you're thin as a rail, you'll find little pockets of cellulite decorating your legs, bottom, and other unexpected — and unwanted — areas of your body. While there are many products on the market that promise you better and smoother skin, many times they don't work or you feel even more self-conscious about your body. On the other hand, you may be stuck with areas of your skin that resemble cottage-cheese and will stubbornly stay put no matter what you do.
However, what if we told you that we had a service for cellulite removal? What if we told you that you could say goodbye to cellulite that might be holding you back from wearing that cute bikini or a pair of shorts that show a bit too much leg. At La Beauté Medical Aesthetics, we can help you feel better about your skin with our cellulite removal services. Contact us to learn more about how we can help you achieve your ideal body.
WAYS TO REDUCE CELLULITE
Cellulite occurs mostly in the buttocks and the thigh areas of your body. It appears in a dimpled and lumpy manner that can cause anyone to feel self-conscious. It occurs because of fat that has moved through the connective tissue under the skin. Cellulite can also be known as orange-peel skin because of how the fat is pushed through the tissue and makes the skin appear chunky. Cellulite occurs for many people, but with our treatments, you can feel confident again about showing a bit of skin. We offer a few different methods for cellulite removal.
BTL EXILIS
The first method we can administer is BTL Exilis. This method is laser skin tightening. A non-invasive and painless procedure, this method will sculpt the skin and smooth it. It will control the energy to target a specific area on the skin. By using laser skin tightening treatment, the cellulite will be treated. This method combines radio frequency and ultrasound technology to help tighten the skin and increase the production of collagen, so the fat cells are eliminated.
CELLUTONE
Cellutone is a new type of non-invasive cellulite removal treatment. The method uses acoustic wave therapy, which is a vibration. Cellutone is painless and there's no downtime between the procedure. This method will target the texture of your skin that's dimpled and lumpy. It will smooth those areas and improve the bumps and texture irregularities. By treating the fat and the skin, the method will allow the blood to flow more effectively and the connective tissue will be improved with the increased circulation.
VIVA MULTI-POLAR RADIO FREQUENCY
This method is essentially non-surgical skin tightening. To get rid of cellulite, you'll want to target the area of your skin with radio frequency. Radio frequency helps to combat skin that's not cooperating and is lumpy instead of smooth. This cellulite removal service will shrink the fat cells and improve the dimples and lumps. It's a comfortable method and non-invasive while also targeting a large amount of cellulite. Viva Multi-Polar Radio Frequency works by transferring energy under the skin's surface to shrink the fat cells.
If you want to check out our cellulite removal services, reach out today.